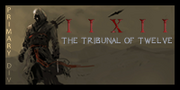 Overview
Edit
Name: Legion
Server: TBA
Race: Any
Type: PvP
Guild Leaders: The Tribunal of Twelve
Website: http://legion-mo.com/
Legion is looking for quality not quantity. We're not going to be just another zerg guild. We will be a small in number but great in skill a tightly knit group.
We are also looking for "chill" people. People who can take a joke without getting flustered. And you have to be a skilled gamer. Until Mortal comes out we're recruiting by skilled players of Age Of Chivalry. Its trial by fire so you will have to show your skill. You can contact us at. http://legion-mo.com/.
Tribunal of Twelve
Edit
The Tribunal of Twelve is not complete yet.
Cypheir
Irishdrunk
AdinTyrr
Infernalic
Punkzor
Swifter
Vance
See also
Edit
For a list of Mortal Online guilds, see Guild List.
Community content is available under
CC-BY-SA
unless otherwise noted.